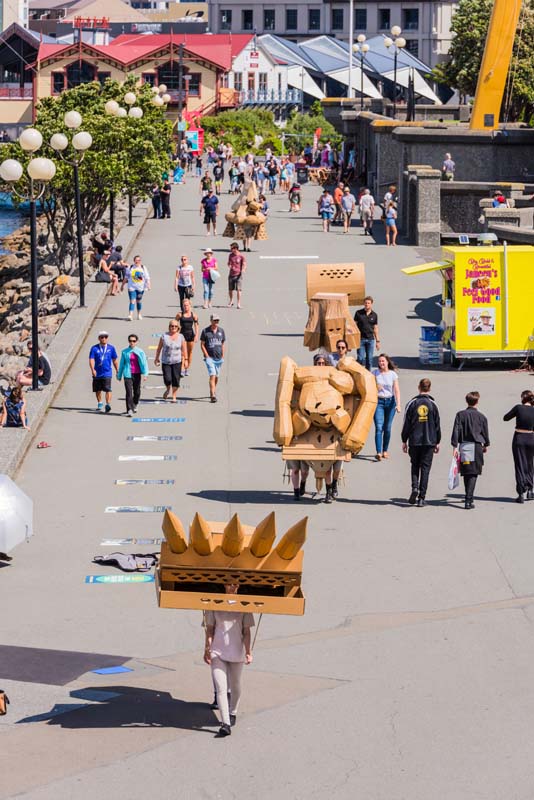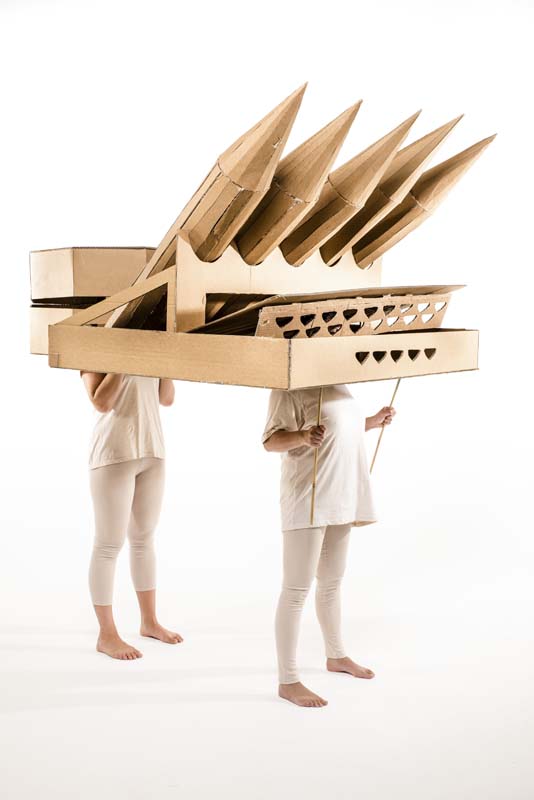 Website / Social Media: www.yukaoyama.com
"HOW IS YOUR COSTUME AGENTIVE?"
The sculptural adornments I create are based on stories of their wearers. Because the costumes capture essences of each person's (wearer's) personal history they feel emotionally charged and agentified.
Yuka Oyama is a Japanese-German artist. Oyama's artistic practice incorporates sculpture, jewellery, video, photography, public interventions, choreographic experimentations and performances. Her life-sized, wearable sculptures function as material provocations that explore the disconnections often felt in contemporary life: the degeneration of human-to-human emotional communication and our sense of belonging. Everyday objects are used to upset these disconnections, facilitating our ability to act beyond set conventions. As object-human hybrids — objectified humans and personified objects — the sculptures are often worn in public theatrical settings to encourage participants to feel more imaginative, gain a different understanding of self and improve capacity to connect to others. Oyama is a Professor for Jewellery Art at the HDK/Valand Academy of Art and Design, University of Gothenburg, Sweden.
Exhibitions (selections): The Dowse Art Museum, Wellington; Musee d'Art modern de la Ville de Paris, Paris; Akademirommet, Oslo; Receptions Gallery, Oslo; Oslo Kustforenning, Oslo ; Pratt Manhattan Gallery, New York; the SPACES Gallery; Haus der Kulturen der Welt, Berlin; Zentrum für Medien und Technologie, Karlsruhe; Pinakothek der Moderne, München.
TITLE: HELPERS – CHANGING HOMES
"What makes a place your home? How do you conceptualise this if home is constantly changing? How do you fill the void of a home you have moved away from?"
In average, a person in the United States moves 11.7 times in a life time. Some people move much more frequently and have several homes at a time. Yuka Oyama belongs to this group as someone who herself has multiple simultaneous places of home. From experience, she has discovered that a transitional lifestyle demands stable points and alternative forms of home in order to cope with constantly changing surroundings. What becomes home, and how the notion of home is constructed, is then individual.
In HELPERS – CHANGING HOMES Oyama sought to portray individual views upon how a handful of portable personal objects help people to make a sense of home. After conducting interviews, she created a portrait of each person as a shelter resembling their objects made out of cardboard boxes. In the next step, she sought to commemorate the experiences of her interviewees in a symbolic way. She orchestrated a filmed performance, where they enacted movements of a hermit crab, a creature who regularly swaps its shell–or home—for a new one in order to grow.
GENERAL CREDITS
Yuka Oyama, HELPERS – CHANGING HOMES, Wellington, New Zaland
Funded by: The Dowse Art Museum, TeWhare Hera Internatinal
Production Managers: Spring Rees, Linda Lee
DOP: Waka Attewell
Choreographer: Lucy Margaux Marinkovich
Director: Yuka Oyama
Foto: Alex Efimoff
Produced during the artist in residence, Artist Residency Te Whare Hera provided by the School of Creative Arts at the Massey University, Wellington, New Zealand. This artwork was exhibited at the "Language of Things" at The Dowse Art Museum in 2018. The curator was Sian van Dyk.
01
Performance view at the Water Front, Wellington, New Zealand
Yuka Oyama, HELPERS – CHANGING HOMES, 2018, video, 7 sculptures, 7 pendants
02
Performance view at the Water Front, Wellington, New Zealand
Yuka Oyama, HELPERS – CHANGING HOMES, 2018, video, 7 sculptures, 7 pendants
03
Performance view at the Water Front, Wellington, New Zealand
Yuka Oyama, HELPERS – CHANGING HOMES, 2018, video, 7 sculptures, 7 pendants
04
Performance view at the Water Front, Wellington, New Zealand
Yuka Oyama, HELPERS – CHANGING HOMES, 2018, video, 7 sculptures, 7 pendants
05
Performance view at the Water Front, Wellington, New Zealand
Yuka Oyama, HELPERS – CHANGING HOMES, 2018, video, 7 sculptures, 7 pendants
06
Performance view at the Water Front, Wellington, New Zealand
Yuka Oyama, HELPERS – CHANGING HOMES, 2018, video, 7 sculptures, 7 pendants
07
Yuka Oyama, HELPERS – CHANGING HOMES, Motorbike, 2018, sculpture, cardboard, bamboo, 320 x 150 x 150 cm
Foto: Alex Efimoff
08
Yuka Oyama, HELPERS – CHANGING HOMES, Colouring Pencils, 2018, cardboard, bamboo, textile, 122 x 140 x 168 cm
Foto: Alex Efimoff
09
Yuka Oyama, HELPERS – CHANGING HOMES, 2018, video, 7:00
BACK 

HOME

BACK 

HOME