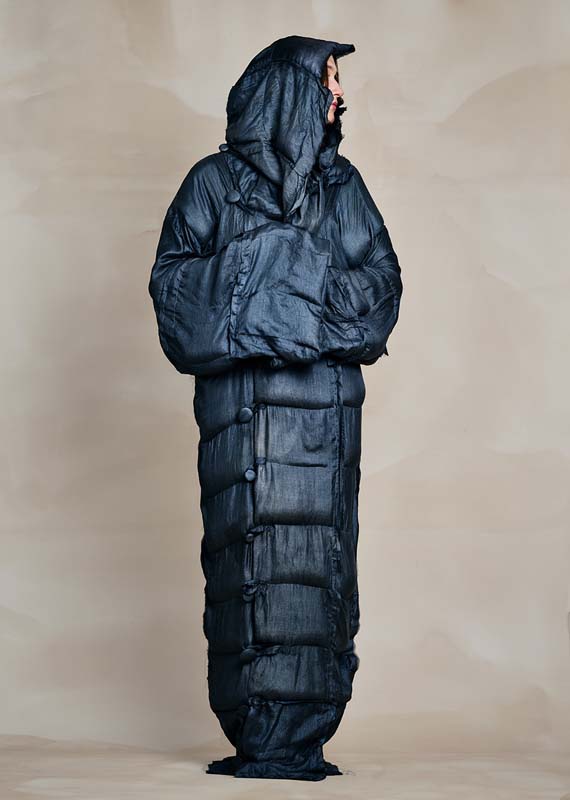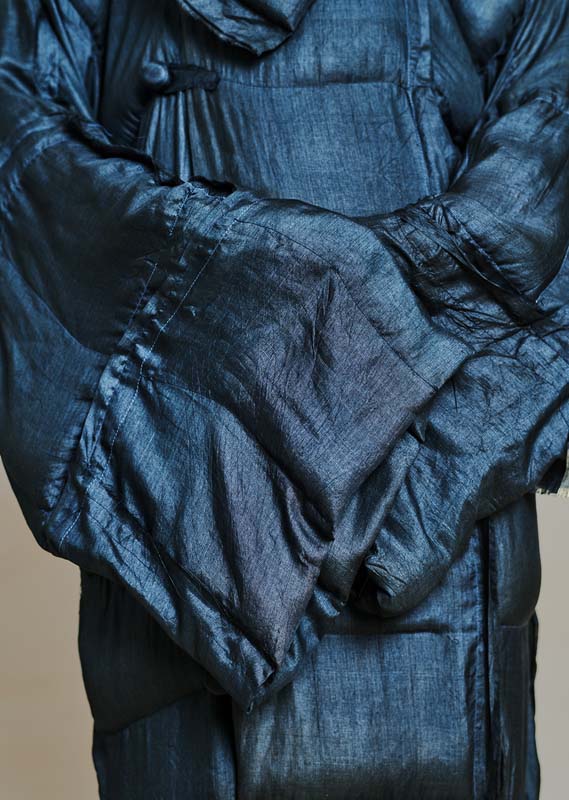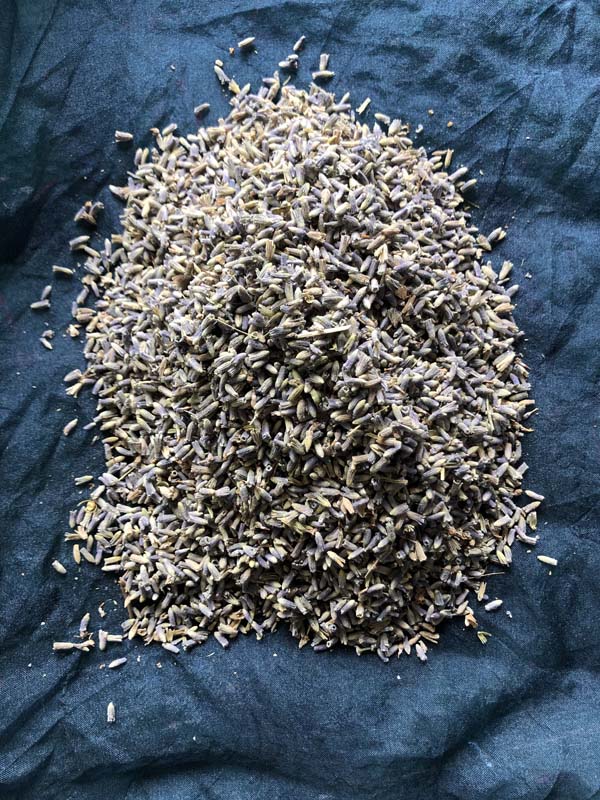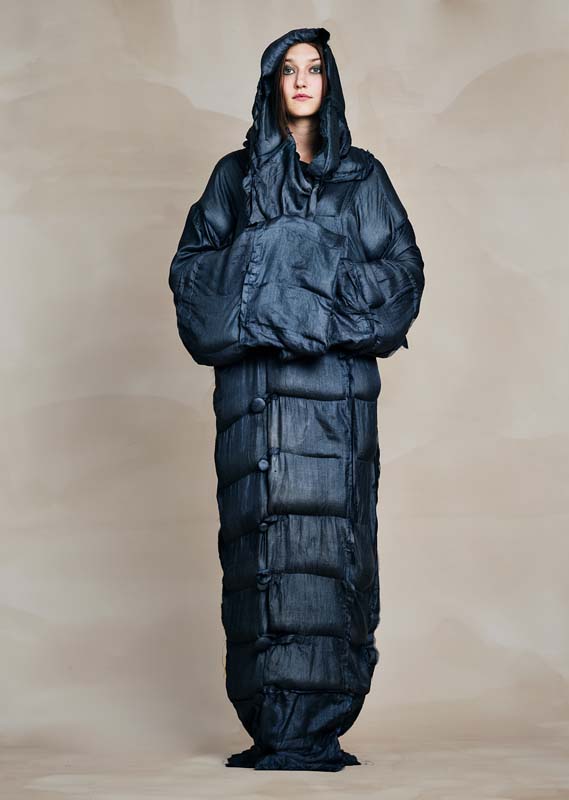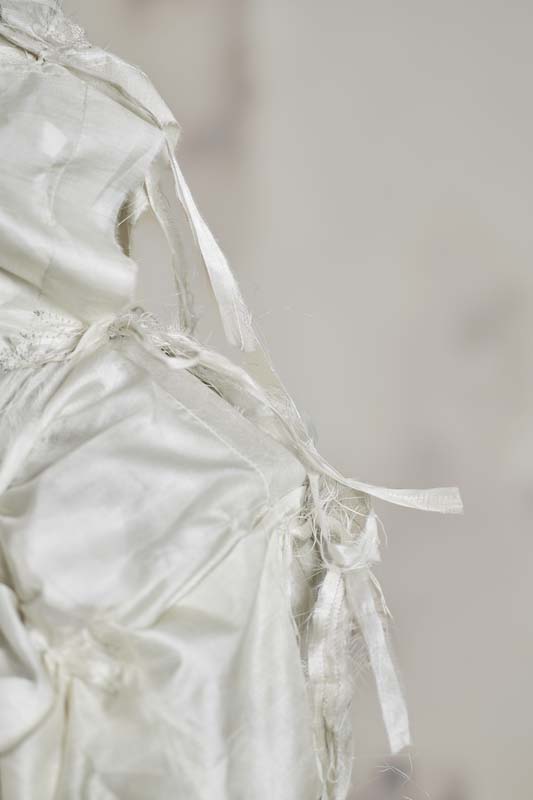 Agency of Senses and Sensuality
Website / Social Media: www.lottabarlach.com
"HOW IS YOUR COSTUME AGENTIVE?"
The Weight of Lavender and A Walk on Eggshells are agentive through the senses and thoughts they awaken as pieces of art, and through the curing effects they might have on its wearers, whoever and whatever they will meet.
The practice of Lotta Barlach includes set- and costume design, fine arts and slow fashion. Into the different disciplines she brings her experimental approach to materials and a focus on moments in which past and presence meets. Unconventional choices of material, powerful combinations of colour, elemental and legible communicating visual concepts characterize her designs for stage and screen.
Lotta Barlach was educated at University of the Arts London and is presently complementing her practice with theoretical studies of Art History at Stockholm University.
TITLE: The Weight of Lavender
The Weight of Lavender is a quilted cloak of silk, heavily filled with lavender. Lavender is traditionally used to cure stress, headache and insomnia. In the sixteenth century, the Elizabethans considered it as the herb of true love and devotion.
TITLE: A Walk on Eggshells
A Walk on Eggshells is a gown of silk, with pockets filled with eggshells. A Walk on Eggshells refers to the expression in the English language that communicates caution in handling sensitive matters. Empty eggshells are also loss of possible life. The gown was created before COVID-19, but in the shadow of the ongoing pandemic, the meaning of this fragile garment is expanding.
TITLE: The collection The Weight of Lavender
The collection The Weight of Lavender, can be seen as a fragrant, visual, three dimensional and wearable contribution to the discussions and actions concerned with future climate and the health of Tellus and its inhabitants. Inviting to a holistic attitude to human civilization, it appeals to the human senses.
The collection, including The Weight of Lavender, A Walk on Eggshells and several other pieces, deals with efforts to cure the planet and aims to cross disciplines such as ethnology, mythology, medicine, ethics, art, literature, history, biology and chemistry.
01
Lotta Barlach, The Weight of Lavender, 2019
Foto: Anders Thessing
02
Lotta Barlach, The Weight of Lavender, 2019, close up / detail
Foto: Anders Thessing
03
Lotta Barlach, The Weight of Lavender, 2019
Model: Rebecka Barlach
Hair and Make Up: Tuija Valén
Foto: Anders Thessing
04
lavender on silk, image from work in progress
Foto: Lotta Barlach
05
Lotta Barlach, The Weight of Lavender, 2019
Model: Rebecka Barlach
Hair and Make Up: Tuija Valén
Foto: Anders Thessing
06
Lotta Barlach, The Weight of Lavender, 2019, video, 00:43
Model: Rebecka Barlach
Hair and Make Up: Tuija Valén
Sound Design: Sebastian Öberg
Film Photography and Editing: Anders Thessing
07
Lotta Barlach, A Walk on Eggshells, 2019
Foto: Anders Thessing
08
Lotta Barlach, A Walk on Eggshells, 2019
Model: Öllegård Groundstroem
Hair and Make Up: Tuija Valén
Foto: Anders Thessing
09
Lotta Barlach, A Walk on Eggshells, 2019, close up / detail
Foto: Anders Thessing
10
Lotta Barlach, A Walk on Eggshells, 2019, close up / detail
Foto: Anders Thessing
11
Lotta Barlach, A Walk on Eggshells, 2019, close up / detail
Foto: Anders Thessing
12
Lotta Barlach, A Walk on Eggshells, 2019, video, 00:37
Model: Öllegård Groundstroem
Hair and Make Up: Tuija Valén
Sound Design: Sebastian Öberg
Film Photography and Editing: Anders Thessing
BACK 

HOME

BACK 

HOME