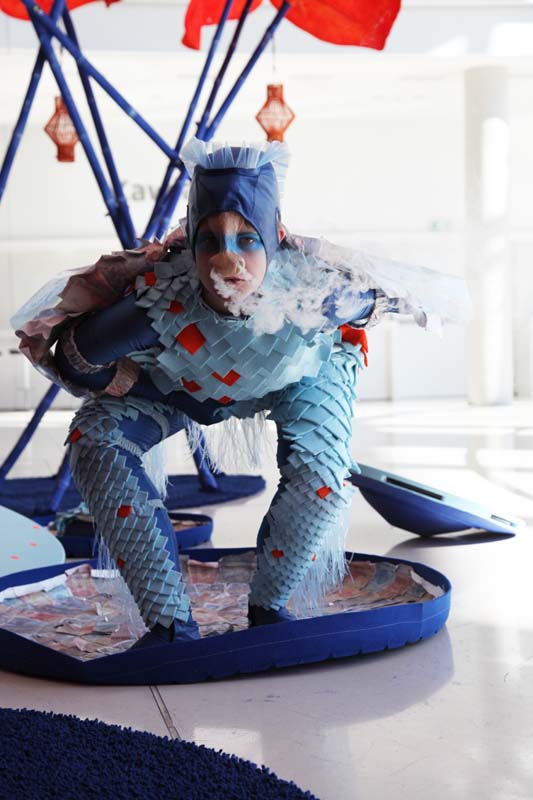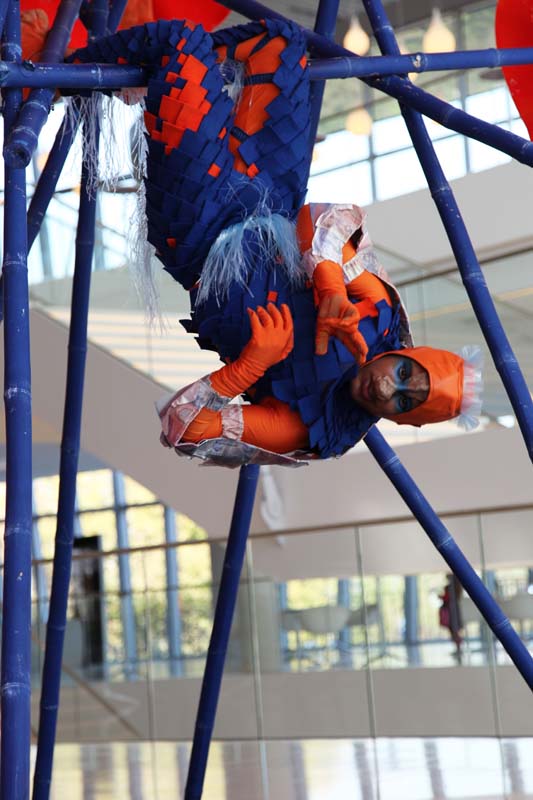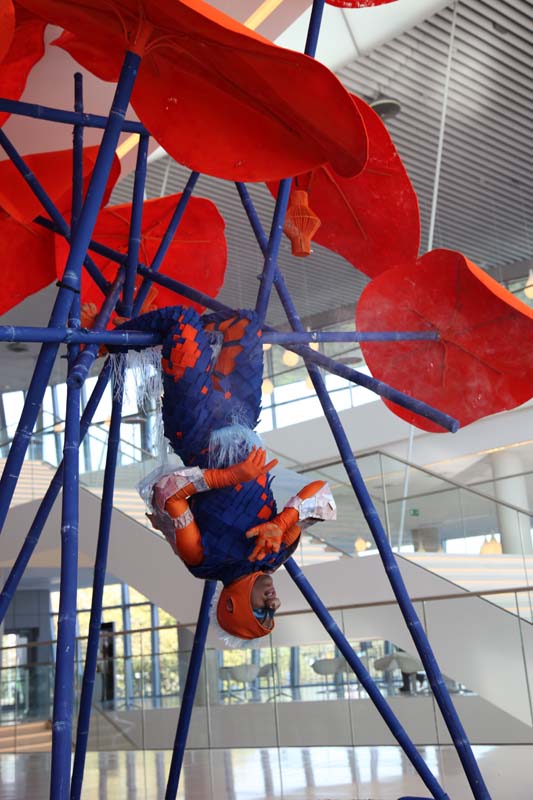 Website / Social Media: www.babyopera.no
"HOW IS YOUR COSTUME AGENTIVE?"
The costumes are agentive in twofold ways: firstly, they were created prior to the rehearsals, thereby setting the premises for the creation of the other elements (the presence of the performers, the text, music, and movement) and secondly, they constitute the fiction for the audience, which perceive the "dragons" in various  ways.
Christina Lindgren is professor in Costume Design at Oslo National Academy of the Arts (KHIO) and leader of the artistic research project, Costume Agency. Lindgren is a costume designer/ scenographer, as well as a stage director on self-initiated productions. She has a special interest in sound generating scenography, hybrid forms of opera and composed theatre. Together with Liv Kristin Holmberg, Lindgren is an artistic co-director of the performance art-project Nattens Lys (2013–). Christina Lindgren is Artistic Director of the ensemble Babyopera (2008-), where she has created seven performances for children 0 – 3 years, that have toured extensively.
In 2015, I initiated a performance based on the idea of three actors dressed as dragons in a theatrical setting of a zoological garden. In 2017, the performance met its target audience: children aged 0 to 3 years and their chaperones.
The elaborate costumes involved twelve makers from the costume workshops, over a period of six months, prior to the rehearsals. The heightened number of costume fittings enabled the performers to have a gradual process of finding and developing their appearance as dragons. The bodies were covered by orange and blue felted wool scales, they had wings, and out of their noses smoke could come out. In the costume fittings, the performers tried out what physical movement was enabled and restricted by the costume. In the mirror they saw their own appearance, physically, mentally and emotionally. They discovered the agency embedded in the garment-objects; what it could generate and create.
When the rehearsals started, text was created as the author joined rehearsals and observed the "dragons". The composer, director and choreographer asked; what can these three "dragons" do, – what sounds do they make? Do they speak? How do they move? The agency of the actor in the garment-objects was explored.
GENERAL CREDITS
Idea, concept, direction: Christina Lindgren
Music: Julian Skar
Scenography: Tormod Lindgren
Costume design: Christina Lindgren
Text: Maria Tryti Vennerød
Choreography: Hanne Dieserud
Performers: Katja Henriksen Schia, Daniel Rodrigo Nilsen, Sondre Pettersen
Production management for Dieserud/Lindgren, Marianne Roland
Production team at Det Norske Teater:
Performance coordinator: Hedda Rønneberg/Emilia Daczkowska Wist
Prop maker: Åse-Berit Litleskare
Wig and mask: Malin Moe Jones
Special effects: Erlend Olaisen
Light design: Ole Randers
Stage manager: Morten Bjørn-Hansen
Costume making coordinator: Maria W. Omvik.
Costume makers: The workshop at Det Norske Teater
Balansebrett-oceandrum is designed and made by
Bert van Bommel / tuttimbri.nl after an idea by Christina Lindgren
Dragon Zoo is a co-production between Det Norske Teater and Dieserud/Lindgren.
Supported by The Norwegian Arts Council and The Audio and Visual Fund.
01 – 05
Christina Lindgren, Dragon Zoo, 2017, performance
Performers: Katja Henriksen Schia, Sondre Pettersen and Daniel Rodrigo Nilsen
Foto: Christina Lindgren
06
Christina Lindgren, Dragon Zoo (trailer), 2017, video, 4:44
BACK 

HOME

BACK 

HOME