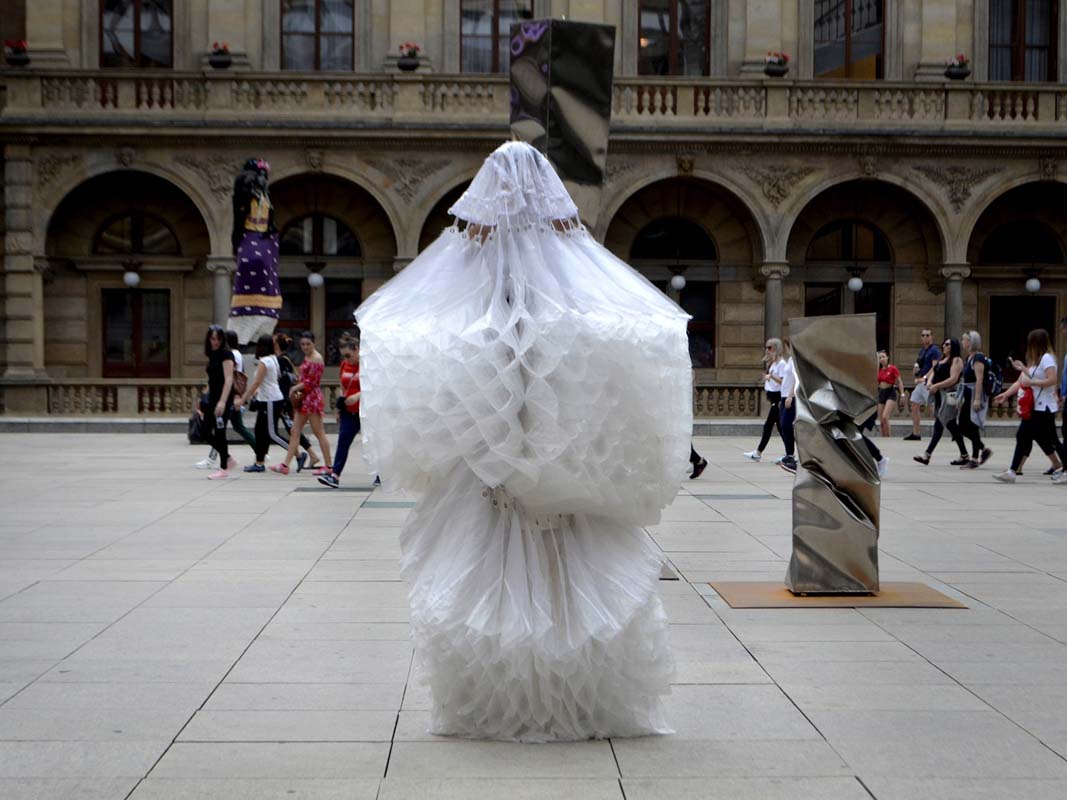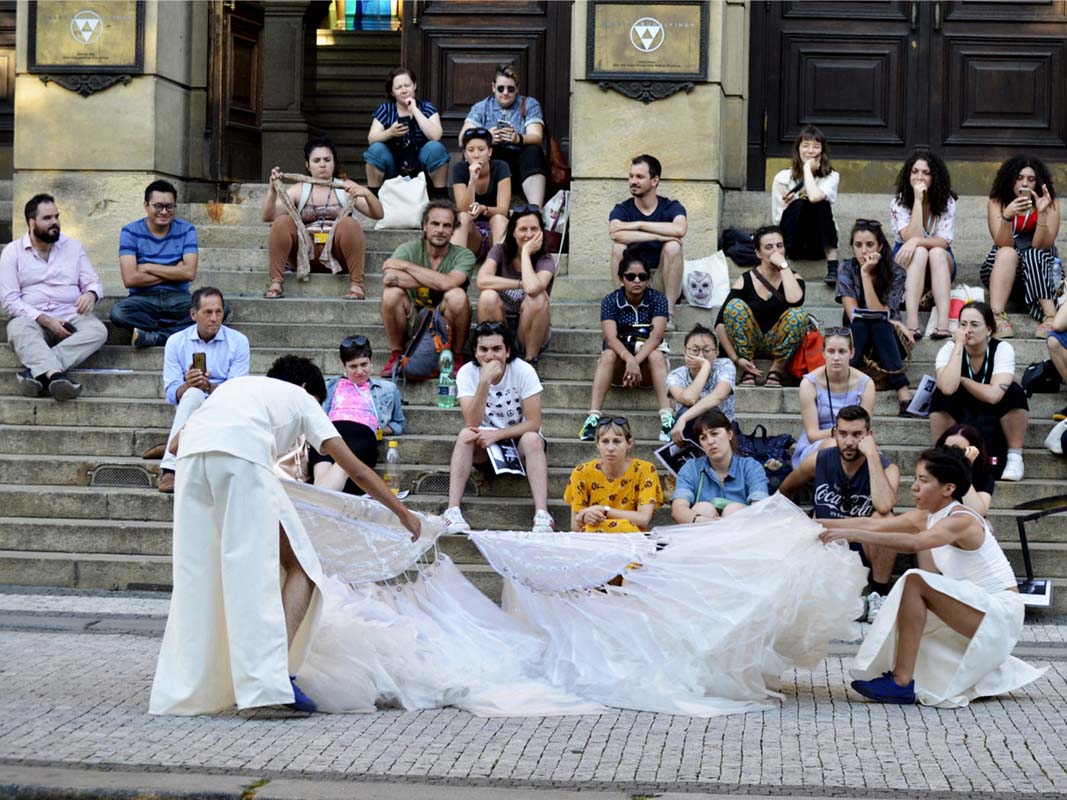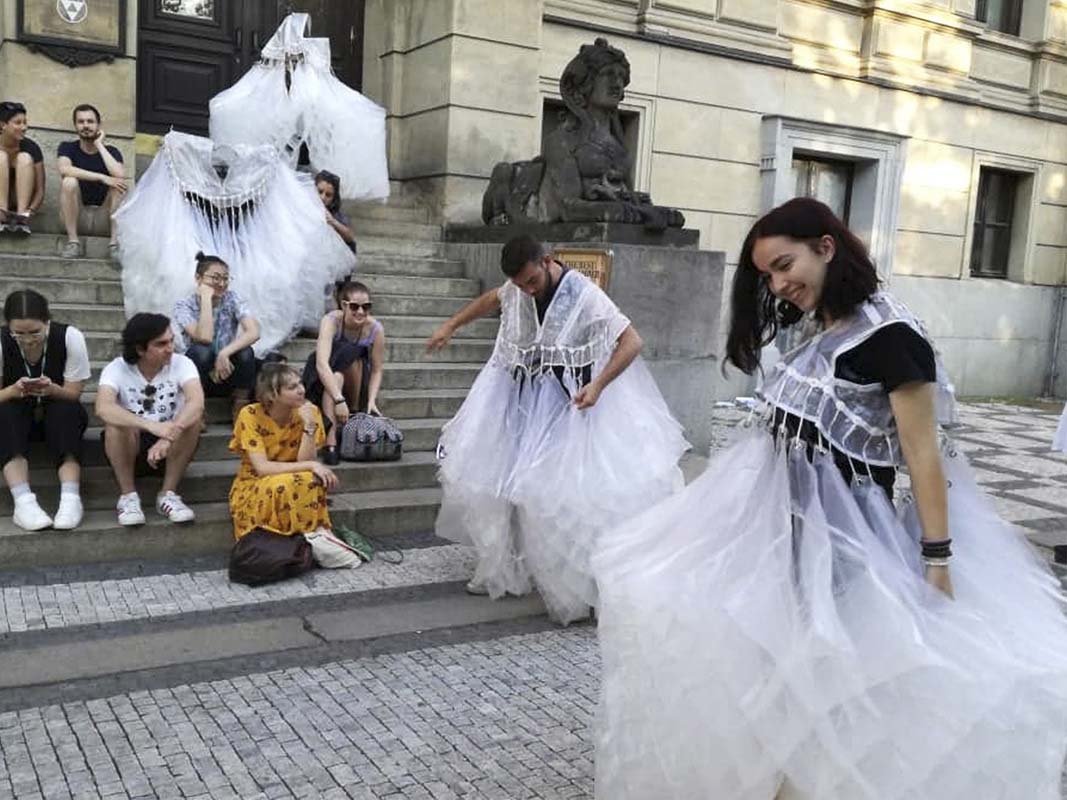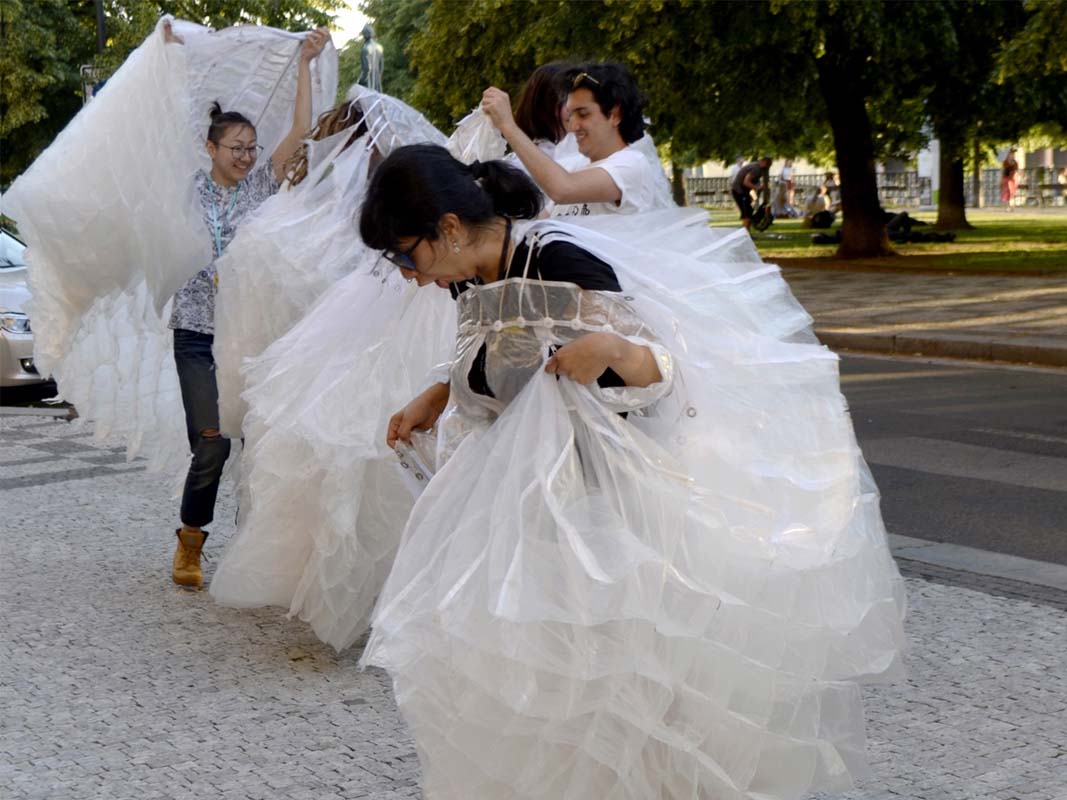 Agency of Senses and Sensuality
Website / Social Media: www.lauramartinezm.com
"HOW IS YOUR COSTUME AGENTIVE?"
Inhabiting the costumes as an instrument to create a unique and unrepeatable soundscape.
Laura Martinez M has a BA in Stage Design by the INBA's National School of Theater Art. She received a Master's degree in Visual Arts, in the Postgraduate of Arts and Design (UNAM). Her Master's research was entitled Proxemic device: a typology on habitable sculpture from the expansion of the scenic costumes.
Her line of research consists in integrating sculptural values in the design of costumes in order to make various proposals within the scene, gallery or public spaces. This interest led her to conduct an investigation of sound dresses in the Master of Sound Art at the University of Barcelona.
Another of her interests is in teaching, with the principle of promoting education and vision towards forging an artistic community, as well as giving conference lectures, courses and workshops in different institutions and universities of her project The costume as an artistic piece.
TITLE: Inhabiting noise and silence
Inhabiting noise and silence is a choreographic action that uses the stage costume as a dramatic engine. The interest of the project lies in raising awareness about the sound landscape that we generate every day.
The costumes are considered spaces that can be inhabited; these were made with approximately 800 recycled plastic bags that were gathered over four years. The scenic presentation consists of creating a unique and unrepeatable sound landscape through these pieces to reflect on whether silence is a privilege at that moment or if it is so uncomfortable that it can be considered as noise.
01
The body and costumes merge to make a sculptural piece.
Laura Martínez, Inhabiting noise and silence, performance in Vaclav Havel Square, Prague, 2019
Foto: Laura Martínez
02
The costume expands and prolongs the movement of the body.
Laura Martínez, Inhabiting noise and silence, performance at the Prague Quadrennial (PQ) Studio Festival, Prague, 2019
Foto: Laura Martínez
03
The costume can create different shapes to take us to an imaginary world.
Laura Martínez, Inhabiting noise and silence, performance at the PQ Studio Festival, Prague, 2019
Foto: Laura Martínez
04
The public can inhabit the locker room and be a sculpture in motion.
Laura Martínez, Inhabiting noise and silence, performance at the PQ Studio Festival, Prague, 2019
Foto: Laura Martínez
05
Different people with different cultures communicating through body language to create a unique and unrepeatable experience.
Laura Martínez, Inhabiting noise and silence, performance at the PQ Studio Festival, Prague, 2019
Foto: Laura Martínez
06
Laura Martínez, Inhabiting noise and silence, performance at the PQ Studio Festival, Prague, 2019, video, 2:57
Original idea and costume design: Laura Martínez M
Collaborative composition: Carol Cervantes, Diego Cristian Saldaña, Laura Martínez M
Performers: Carol Cervantes, Diego Cristian Saldaña
BACK 

HOME

BACK 

HOME