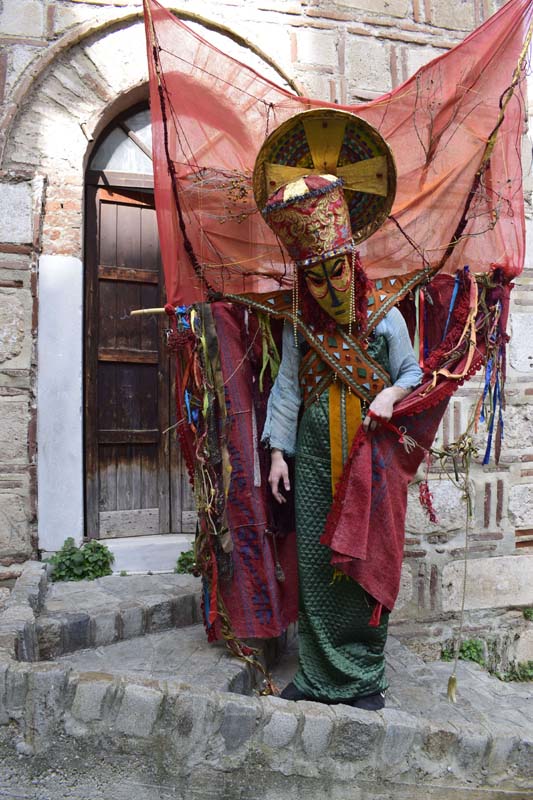 Website / Social Media: https://kwnnabatz1997.wixsite.com/website
"HOW IS YOUR COSTUME AGENTIVE?"
The costume of Dionysus is a very powerful visual and performative medium transcending the narrow confines of reality, transferring the viewer to the paths of myth and ritual, a bipolar spiritual world divided into Life-light and Death-darkness. A series of issues emerge through costume: what is sacred, what is life, what is death, what is secure and what dangerous.
Constantina Batziou is a student of Costume Design at the School of Drama, Aristotle University, Greece. She has exhibited her artwork in the Prague Quadrennial 2019, SKG BRIDGESFESTIVAL and in the 3rd Meeting of Young Artists of S/E Europe "Ancient Drama & Politics", in Thessaloniki.
Her work focuses on researching the agency of stage and film costume. More concrete, the identity of her costume designs stem from the investigation on ancient myths and their interpretation, and on different cultural traditions. She is interested in unusual construction techniques and in experimenting with alternative materials and their unexpected combinations. Her artwork is characterized by bold artistic gestures culminating in large scale constructions, costumes that resemble mobile sculptures intending to provoke and raise social and communal awareness on a number of issues.
Dionysus Project is based on the composition of two sculptural costumes of the god Dionysus. This double costume, which was presented at the exhibition Aspects of Tragedy in Stage Costume Design (at the School of Drama, Aristotle University, Greece), curated by Professor Chryssa Mantaka as part of the SKG BRIDGESFESTIVAL 2019. The project is inspired by Nietzsche's idea on the contradictory, mystic nature of Dionysus and by Otto Walter's viewpoint on the duality of the god's spirit, the bipolarity of life and death that defines him. I imagined a version of the God in a form of a two-headed snake that combines life and death. Life is expressed by calm pleasure and mature feelings, while death is expressed by violent pleasures and immature feelings. A variety of materials and symbols are manipulated in the complex costume construction in order to visualize both elements. This bipolar god can move like one body but can also be divided into two different creatures as seen on the video performance.  I decided to become part of the story as a performer and to investigate by myself the world of the duality of the god in action. Thus, the spectator follows the metaphysical wandering of the Man's Soul through the contradictory existence of the god. 
01
Constantina Batziou, Dionysus Life, 2019, dyed cotton gauze, quilted synthetic fabric, hand-woven fabric, corduroy, liturgical fabric (metallic brocade), knitted red-purple cowl, passementerie, tassels, tapes, strings, rugs, burned textiles, dried pomegranates, plants, dried branches, rope, cord, wire, thin reed, purple thread, golden metallic paper, foam, wire, straps, eva foam, silicone glue, cardboard mockup, mosaic tiles, jewels, garlands, plastic colors, spray, dyes, gouache, 3.10 x 2.10 m, Performer: Dimitris Louizidis
Foto: Rafael Gabriel
02
Constantina Batziou, Dionysus Death, 2019, quilted synthetic fabric, dyed cotton, aged corduroy, painted synthetic leather, bicycle tire, wooden sticks, nails, burned plastic bag, dried branches of plants, wood, fishing nets, threads, reeds, chains, paper tape, glues, plastic bubble packaging foil (aeroplast), dried pomegranates, silicone tubes, bells, cords, straps, garlands, plastic dolls, worker's helmet, syringe, foam, 3.0 x 2.5m, Performer: Argy Kotinopoulos
Foto: Giorgos Papadopoulos
03
Constantina Batziou, Dionysus Project, 2019, 2:00
BACK 

HOME

BACK 

HOME