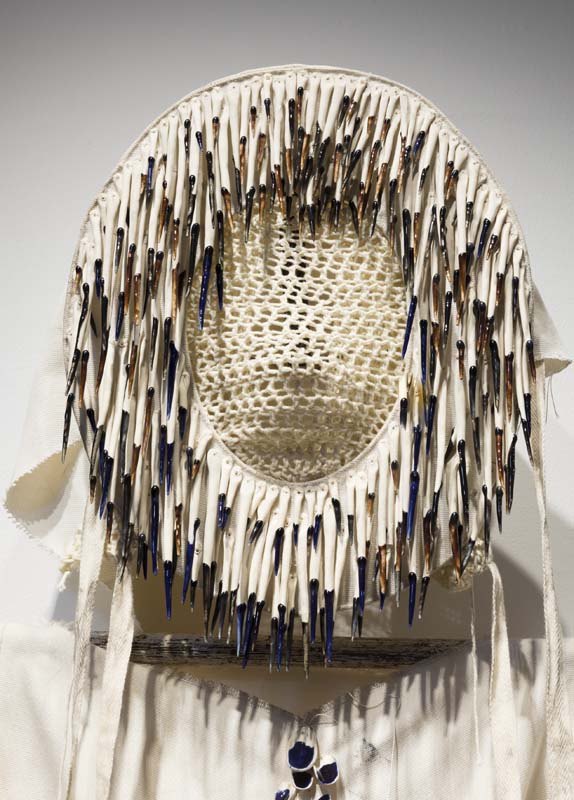 Website / Social Media: www.georgiafrew.com
"HOW IS YOUR COSTUME AGENTIVE?"
The physical experience of wearing these costumes is reflective of a personal emotional struggle. The costumes act upon the wearer to exacerbate these feelings and thus produce a sense of catharsis as those feelings are processed through performance within the costume. 
Georgia Frew lives and works in Sydney, Australia. She makes objects, costumes, performances, installations, paintings and drawings that explore themes of personal and collective ceremony, contemporary catharsis, social anthropology, sexuality, ritual objects and actions, and personal mythology. Her performative practice frequently incorporates elements of film, intuitive movement, sculpture and vocalization while her sculptural works engage with a variety of mediums, including elements of native flora and fauna as well as ceramics, textiles and various metals. 
 Through her performances she experiments with different catalysts for emotional experience, exploring the various effects of different places and objects, sounds and certain movements as well as using personal and collective history to elicit some form of cathartic occurrence. Her performances are deeply personal, but are often in response to ubiquitous issues of gender, race, sensuality and sexuality, societal norms and expectations, consumerist culture and, more recently, climate-related anxiety, grief and fear. 
TITLE: Folded Memoryscape – New Worn Identities
Feel This (2018) is a three-channel video documentation of three separate performances in three separate costumes. As a whole, the work examines the interconnection between places, objects and movement and how these elements affect and, to a degree illicit, the process of emotional catharsis. The work circulates around ideas of personal and collective memory and history, ritualised objects, costumes acting as dictators of experience and performance as an intuitive emotional process. Each performance takes place in a different location and involves a different costume that is connected to that location. The combination of costume and place then creates the performance, with the outcome being dictated by the experience of interacting with both elements. The desert in Wilcannia, Pitt Street Mall in the Central Business District of Sydney, and the front veranda of my family home are each imbued with history, both personal and collective. The experience of being in those places is reflective of the costumes that were produced for each respective performance, and the performances were, in turn, reflective of the interaction between those costumes and places.
01
Georgia Frew, Wilcannia Costume, 2018, copper, leather, flax grass, emu feathers
Foto: Lillith Heirloome
02
Georgia Frew, Pitt Street Costume, 2018, calico canvas, white wool, porcelain, welding rod, sheet steel
Foto: Silversalt Photography
03
Georgia Frew, Feel This, 2018, performance, 20:14
BACK 

HOME

BACK 

HOME